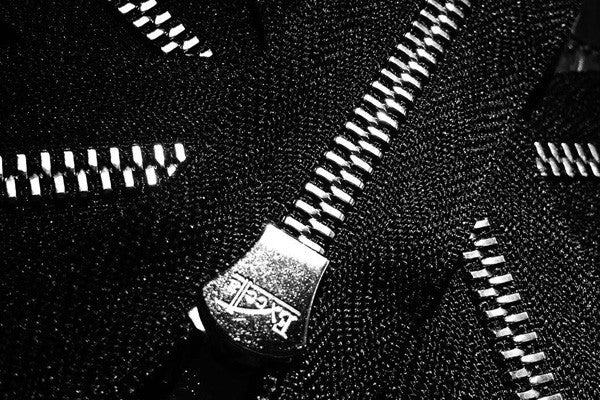 YKK Zippers
YKK Corporation has been in existence since 1960 when it opened its doors in New York City. It is now head quartered in Georgia and are known globally as a leader in the fastening industry. YKK produces metal buttons and snaps, hooks and loops, plastic buckles and last but not least, zippers which are their claim to fame.
YKK zippers are offered in metal, coil and vislon. Metal is what is used most often on garments and bags. YKK's "Yzip" is their standard barer and is most often found on jeans, bags and other heavy-duty items which require a strong closure. Imported from Japan, YKK Excella is their highest quality metal zippers, which are often used on high end designer brands. All YKK zippers have their initials stamped on them and can be found on anything from Levi's jeans, Temple of Jawnz, Rick Owens Jackets & Saint Laurent boots.
RiRi Zippers
RiRi is an Italian based brand specializing in buttons and zippers. RiRi is the choice for many luxury bag makers and leather workers. Established in an old pasta factory in 1936 RiRi has grown to be a major force in the luxury fastening business. Famous for their smooth and tight fastenings RiRi zippers open and close easy and steady with small teeth which are attractive for manufacturers looking for a minimalist aesthetic. Used by brands like Maison Martin Margiela & John Elliott.
Lampo Zippers
Lanfranchi Lampo zippers have been manufactured in Italy since 1887. Giovanni Lanfranchi founded the company and started out making buttons based on the Corozo nut versions being produced in Germany. It wasn't until many years later in the 1940's that fasteners and zippers entered the equation. Lampo is synonymous with quality and luxury and are often used in a double zip format where the clasp of the zipper can be move from one side of the other in effect making it ideal for reversible garments. Many luxury garments today feature Lampo zippers. Balmain features Lampo zippers on all their clothing.
Raccagni Zippers
A Spanish fastening manufacturer who was previously unknown to us before our introduction to luxury retailer Roztayger. Founded in 1983 Raccagni prides itself on its technological innovation, several certifications in the industry and the ownership of the Super "R" product, which is the ultimate in luxury used by the likes of Tom Ford and high-end bag makers such as Bonastre. Each tooth in these zippers has been individually brushed and polished before being assembled on the chain.