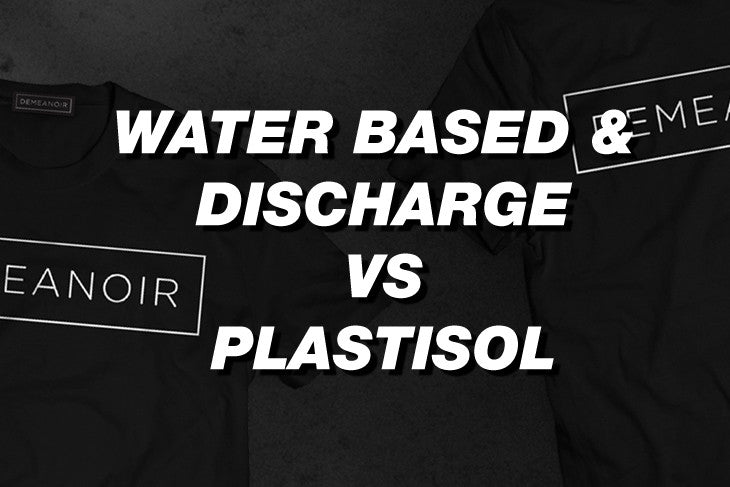 Most of our t-shirts are screen printed on using water based & discharged ink. Here is a quick explanation of the difference between plastisol ink and water based & discharge ink.
Water based ink is a special type of decorative ink that literally soaks into the fabric instead of sitting on top of it, as plastisol does. It is generally used on lighter colored garments and allows for a bright print that has a "pop" factor. Since the fabric isn't compromised by the ink, garments are left with a super soft and natural feeling print. You literally won't even feel the print, which is one of the many benefits of water based inks.
Discharge ink is still a water based ink that soaks into a shirt's fabric. The only difference is that there is a discharge agent mixed into the ink that removes manufacturer dye in the shirt. Once a manufacturer's dye has been removed, the discharge ink will then re-dye that print area a desired ink color. Discharge ink is tailored for darker colored shirts that produce uniquely bright print results based on their individual fabric compositions.
BENEFITS OF WATER BASED & DISCHARGE PRINTING
NO ADDED WEIGHT
Unlike plastisol ink, water based and discharge inks don't require an under base. This means your printed shirt will maintain its original light weight, soft feel, durability and pliability.


BREATHABLE
Since the ink has soaked into the threads, there's no extra layer of ink blocking the path of airflow between fibers. Your shirt will remain lightweight, comfortable and suitable for wearing on a regular basis.


SOFT PRINTS
The inks soak into the threads so the image becomes a part of the shirt. Because the graphic is now soaked into the fibers, there is ultimately no "hand" to the print, which means you can't feel a thing.


NO CRACKING, NO PEELING
Plastisol, the unfortunate standard of the screen printing industry, is known for cracking and peeling since it sits on top of the shirt. With water based ink, since it soaks directly into the fiber, it's impossible for this to happen.


ECO FRIENDLY
Water based inks are PVC free and contain no harmful or toxic substances. They are completely safe to work around and wear! However, we still wouldn't suggest eating them. You might not feel well.